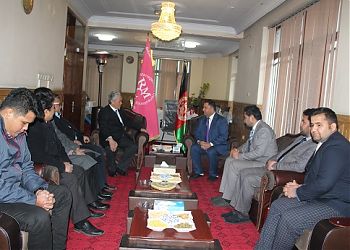 On February 19,2020, H.E. Arief Rachman Ambassador of Republic of Indonesia for Afghanistan had visit to Rokyan Management Consultancy International Kabul Office. He was accompanied by senior diplomats from the embassy.
He was received by Mr. S. Elam, MD Rokyan Management Consultancy International. He offered bouquet of flours to HE and welcomed him and his team to Rokyan.
Then, the team was briefed by Mr. A.W.Barmak OD and International Affairs, Rokyan Management Consultancy Internatonal on the operations, activities, projects, social activities, and training events conducted by Rokyan.
There was a question and answer discussion directly after the briefing. Consequently, HE Ambassador and the team was gifted by Mr. R.Zubair, Admin Head, Rokyan Management Consultancy the Afghan Turban and other cultural gifts.
The event ended with near and closer cooperation for the future support of Rokyan in Indonesia.