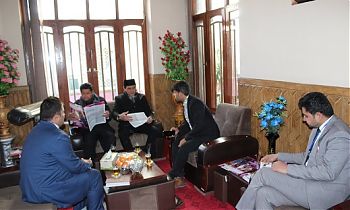 On January 28,2020, senior officials comprised of First Secretary, together with the cultural and social department member from the Embassy of the Republic of Indonesia had an introductory visit to Rokyan Management Consultancy International (Kabul Office)
During the meeting, Rokyan's team introduced: Rokyan, Its services , The countries where Rokyan is operating , Number of individuals Rokyan had trained in 2019 , How Rokyan is overall operating and processing the visas for the trainees , Rokyan's new services and launch of business activities at Indonesia
The meeting which continued for more than an hour had resulted in number of remarkable outputs and clarified a lot of ambiguities and led to number of clearances in different areas Rokyan has been operative.
By the end of the meeting, the delegation was offered Rokyan's shield, gifts to mark the embassies services to Afghan brothers and sisters.
The meeting was concluded with future relationship building and cooperation.